Organization of a seminar to present the silvopastoral system in Pupiales.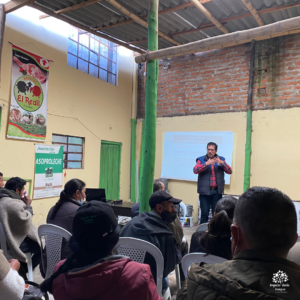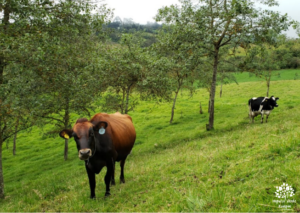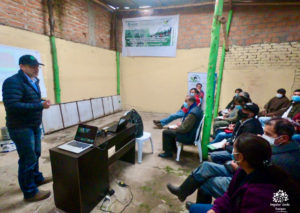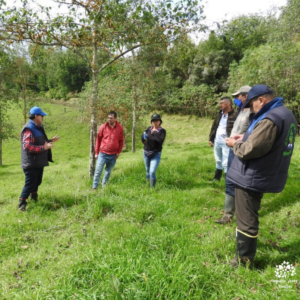 On March 25, the Fundación Impulso Verde Kuaspe organized a seminar to present the silvopastoral model to representatives of the ASOPROLECHE cattle ranchers' cooperative in the municipality of Pupiales (78 ranchers).
We invite Professor Diego Rosendo Chamorro Viveros, from the National Open and Distance University (UNAD), to present the challenges and multiple advantages of a silvopastoral model The main advantages of the farm are: continuous fodder production, livestock welfare, up to 25% more milk production per head for half the pasture area, conservation and protection of water resources, etc.
The community nursery network Impulso Verde Kuaspue, in charge of tree production for the implementation of the model at the regional level, was represented by the associations Manantial de Vida, Pumamaki and Sinchimaki.
Considered one of Colombia's main dairy production areas, Nariño has been an essentially agricultural region since colonial times and dairy farming has continued to grow steadily.
The UPRA (Agricultural and Rural Livestock Planning Unit) estimates that only 9.3% of the region's land should be used for agriculture, while in reality it is 24%.
Agricultural activity accounts for 39.3% of Nariño's GDP. Dairy farming has increased, especially in recent years, and this is actively contributing to deforestation. The Institute of Hydrology, Meteorology and Environmental Studies (IDEAM) estimates that the region has an annual loss of about 8,000 hectares. Thus, the department of Nariño is among the 10 Colombian departments that suffer the greatest loss of forest cover each year, representing 6% of national deforestation.
In order to halt this deforestation and, at the same time, to reconcile the agricultural activity essential to the economic development of communities, it is essential and urgent to implement silvopastoralism as a model that respects nature and the environment.
Impulso Verde's network of nurseries will provide the trees to implement silvopastoral models in a sustainable manner.
Following this seminar, the Impulso Verde team and representatives of ASOPROLECHE and UNAD visited Ricardo Orbes' farm, which has been applying a silvopastoral model focused on Andean alder for more than 15 years, and demonstrates the efficiency of the model in terms of profitability. It carries out its agricultural activities in an environmentally friendly manner.